SALT Torquay – Case Study
SALT Torquay by Barwon Water is the first community precinct in regional Australia and the first developed by a water authority to be recognised as a One Planet Community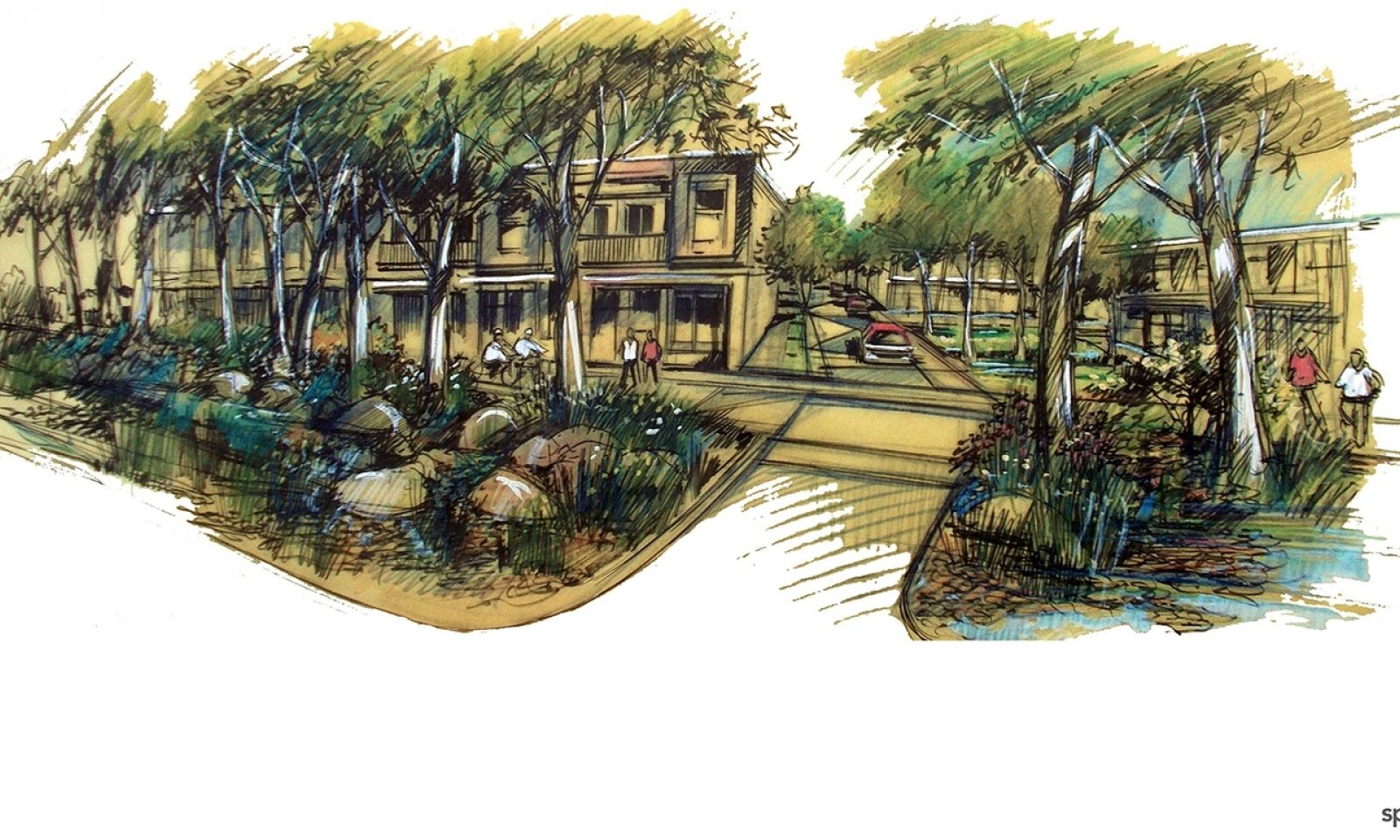 A One Planet Community
SALT Torquay, a regional community in the coastal community of Torquay, is due for occupancy in 2019. It is designed to make it easy, attractive and affordable for people to lead happy and healthy lives using a fair share of the earth's resources. On completion the community will accommodate 81 homes including villas, townhouses, and units across a range medium density lots ranging from 300m2 to 830m2.
Barwon Water, the largest statutory water authority in the state of Victoria, has applied One Planet Living to SALT Torquay, its first community development.
SALT Torquay's One Planet Action Plan was endorsed by Bioregional for national leadership in One Planet Living in 2018. This is the first housing community in regional Australia to be recognised as a One Planet Community.
SALT Torquay, a 5.4 hectare community located in the regional coastal township of Torquay, is in short walking and cycling distance to the schools, shops, cafes, weekly farmers market and co-working spaces. It is only 3 km to surf beaches, a 30 minute bus trip or 1 hour bike ride on the 21km trip to the regional city of Geelong.
Creating healthy, happy, low carbon lives
SALT Torquay's One Planet Action Plan outlines a range of initiatives across the One Planet Living ten principles and goals that aims to reduce residents' ecological footprint and increase quality of life and community engagement. Initiatives include energy efficient homes, 100% renewable energy, cycling paths, electric vehicle infrastructure, water and energy efficient fittings and fixtures, with raingardens and rain water swales, native planting, waste reduction and community engagement strategies.
In addition to applying the One Planet Principles to embed sustainability within the community development, the SALT Torquay One Planet Action Plan includes initiatives to make it easy attractive and affordable for residents to transition to One Planet Living once they have moved in.
Highlights from the One Planet Action Plan
Onsite communal spaces, including a playground and raingardens, linked with pedestrian and cycling paths
A residential welcome pack with stakeholder engagement, community activities, share economy opportunities, ecosystem impacts, local indigenous history and sustainability facilitator
Native planting, public artwork, wayfinding, increased nature and canopy cover
Comfortable and efficient homes with a minimum 7.5 star residential energy efficiency rating, good ventilation, and energy and water monitoring and consumption data to feedback behavioural impacts
Innovative public storm water controls, household rainwater harvesting and reuse for toilet, laundry and garden irrigation, plus water efficient fittings to reduce mains (potable) water consumption per person by 30%.
Community powered by 100% renewable energy, with onsite solar panels to all housing and Barwon Water $5000 voucher to purchase battery storage
Electric vehicle charge infrastructure, car share platforms and onsite bicycle storage, with active travel linkages to amenities and coworking spaces and public transport information
Part of a One Planet family
Residents of SALT Torquay will further benefit from initiatives implemented by local organisations committed to One Planet Living, including the neighbouring local government City of Greater Geelong, a One Planet City endorsed in 2015, and local water authority Barwon Water.
One Planet Living leadership initiatives outlined for SALT Torquay, Barwon Water and the City of Greater Geelong share the universal 'One Planet Living' vision, principles and goals.
About Barwon Water
Barwon Water (Barwon Region Water Corporation) is Victoria's largest regional urban water corporation. Barwon Water's 2030 strategy defines the organisations role as an enabler for regional prosperity, working through the future local challenges with the impact of climate change, the regions rapid population growth, a transitioning economy from an industrial base and rapid advancements in technology.
The mission is to strengthen Barwon region's economy, livability and sustainability, through the delivery of high quality and affordable water and sewerage services.
Barwon Water serves a community of more than 320,000 people across 8,100 square kilometers along the Victoria surf coast and regional hinterland. A tourism hotspot, the serviced population can grow to more than 500,000 people over the summer holiday.