Evermore WGV – Case Study
Evermore WGV, led by developer Yolk Property Group, is an attractive and sustainable apartment block and One Planet Community, in One Planet City Fremantle, Western Australia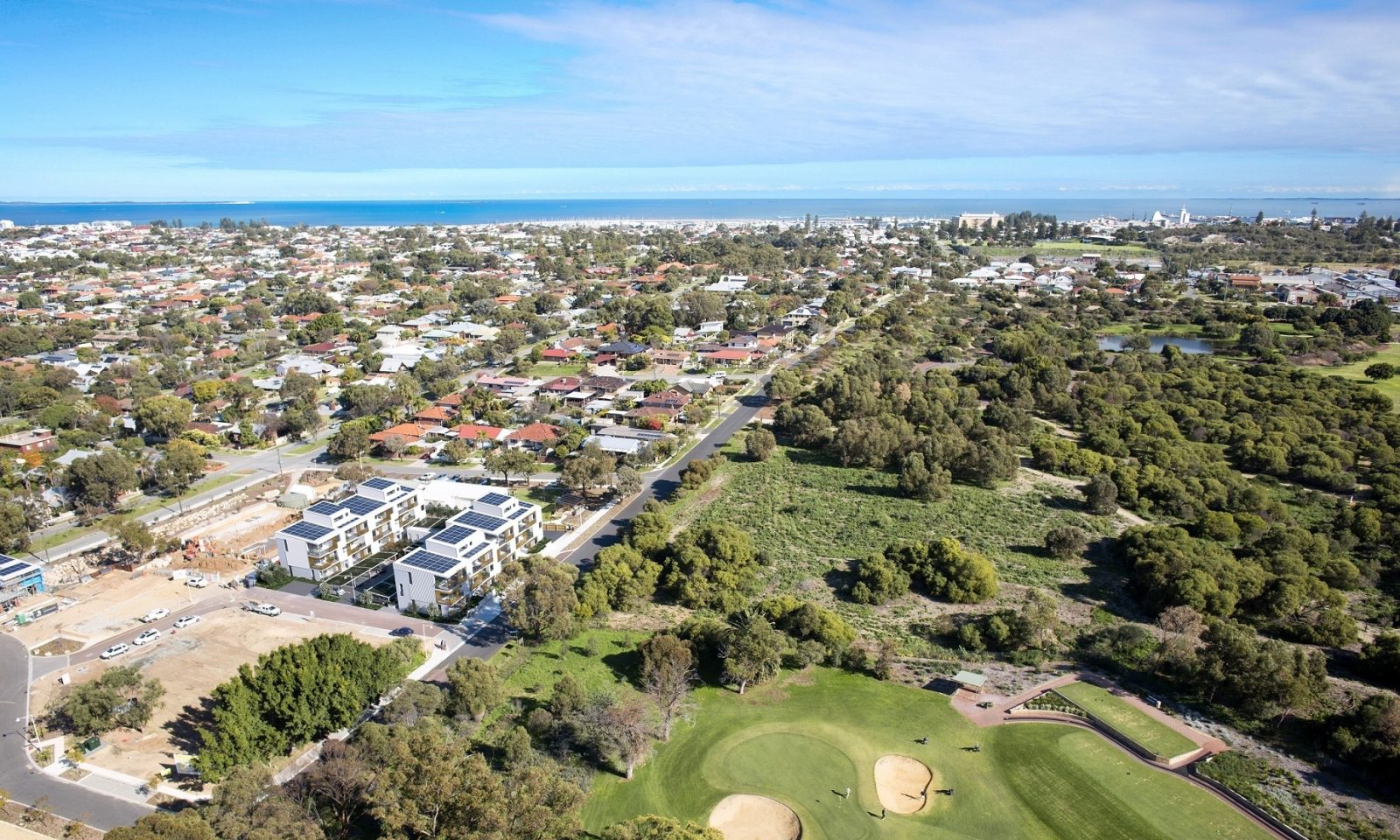 A One Planet Community and global leader in One Planet Living
Evermore WGV is an apartment block of 24 apartments that are designed to make it easy, attractive and affordable for people to lead happy and healthy lives using a fair share of the earth's resources.
Yolk Property Group, the lead developer, has used Bioregional Australia's One Planet Living process throughout the planning for the community. Bioregional's One Planet Living framework comprises ten simple principles that help anyone, anywhere plan, deliver and communicate sustainability.
Its One Planet Action Plan, using these ten principles, was endorsed by Bioregional in 2017 and then recognised as a global leader in One Planet Living in June 2019.
It is situated within WGV at White Gum Valley, a diverse self-build development and another One Planet Community led by LandCorp.
Creating healthy, happy, zero carbon lives
Evermore WGV's One Planet Action Plan outlines how it will achieve high sustainability standards, while also being a great place to live. It sustainability targets are further supported due to its location within WGV at White Gum Valley, an existing One Planet Community.
As well as using the One Planet Living principles to embed sustainability within the apartments themselves, the action plan focuses on how residents will live once they have moved in.
Highlights from the One Planet Action Plan
Apartments will be comfortable to live in with good ventilation and use of natural sunlight for warmth
Residents will be able to enjoy onsite communal spaces, including a courtyard, a food garden, barbecue and bicycle repair station. These are designed to to encourage conversations between neighbours to foster relationships
The community will be 100% powered by renewable energy, with solar panels and battery storage and any remaining energy needs provided from a green power supply
Electric vehicle charge station and bike storage provided onsite, with information about active travel and public transport given to residents
With a target to reduce potable water consumption by 70%, the homes will feature dual plumbing (one pipe of mains water, one of recycled water) to all houses and water-efficient appliances and fittings.
Pioneering shared solar
Yolk Property Group has partnered with Curtin University, LandCorp, Solar Balance, Australian Renewable Energy Agency (ARENA), Low Carbon Living Cooperative Research Centre and Commonwealth Scientific and Industrial Research Centre (CSIRO) to deliver Evermore WGV, with ARENA providing a $280,000 grant to aid Yolk Property Group deliver the project.
As part of this, the development is pioneering the use of shared solar technology in a large-scale strata (apartment) setting with a governance model developed by the Curtin University Sustainability Policy Institute. It's estimated that the technology will save residents 30% on their electricity bills.
Real-time measurement and recording of water and power consumption will also give residents greater control over their energy usage and ensure maximum energy-efficiency.
Part of a One Planet family
As an apartment block within the wider One Planet Community WGV at White Gum Valley, Evermore will also benefit from the sustainability features of this development.
WGV is a diverse self-build development, designed to create a vibrant community of over 80 homes with a people-friendly, rather than car-dominated, layout and lots of green space.
While each development is individually assessed and recognised under the international One Planet Living framework, they share a common and complementary 'One Planet' vision which will help each achieve its goals.
Both are also located within the City of Fremantle, which became a One Planet City in 2015 with its own endorsed One Planet Action Plan.
About Yolk Property Group
A diversified property development syndicator, Yolk Property Group has carved a niche in the Australian property market with its approach to innovation and sustainability. The company continues to break new ground in green development through its use of state of the art technology, influencing all future sustainable developments. Whether utilising alternative energy technologies, incorporating green initiatives or minimising negative environmental impacts, Yolk is committed to sustainable development. Yolk operates in Victoria and Western Australia.